Torch
The College of the Mainland Newsletter
Volume Three | Number One 2018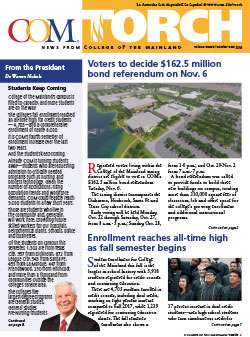 Students Keep Coming
College of the Mainland's campus is filled to capacity, and more students are on the way.
The college's fall enrollment reached an all-time high for credit students — 4,705—and a comprehensive enrollment of nearly 6,000.
It is COM's fourth semester of enrollment increase over the last two years.
And the students keep coming.
Already COM is turning students away—students who are requesting admission to critically needed programs such as nursing and process technology. Given the number of applications, rising population trends and workforce demands, COM could feasibly reach 9,000 students in a few short years.
Those are students who live in the community and, generally, will work here, providing future skilled workers for our hospitals, petrochemical plants, schools, police and businesses.
Of the students on campus this semester, 1,302 are from Texas City, 957 from Dickinson, 872 from League City, 543 from Santa Fe, 455 from La Marque, 447 from Friendswood, 250 from Hitchcock and more than a thousand from communities outside the college's service area.
The college's five largest degree programs are General Studies, General Studies Pre-Nursing (students
Continued on page 8.
EL BOLETÍN DE LA UNIVERSIDAD DE MAINLAND
Volumen TRES | Número UNO 2018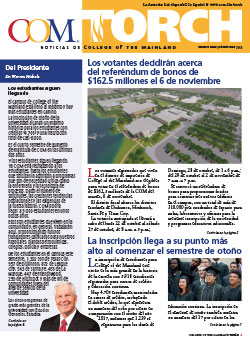 Los estudiantes siguen llegando
El campus de College of the Mainland está lleno al máximo y hay más estudiantes en camino.
La inscripción de otoño de la universidad alcanzó un máximo histórico para los estudiantes con créditos (4.705) y una inscripción total de casi 6.000.
Es el cuarto semestre de aumento de matrícula de COM en los últimos dos años.
Y los estudiantes siguen llegando. Ya COM está rechazando a los estudiantes, hasta los estudiantes que solicitan la admisión a programas que son de necesidad crítica como la enfermería y la tecnología de procesos. Dado el número de solicitudes, las crecientes tendencias poblacionales y las exigencias de la fuerza laboral, COM podría llegar a 9.000 estudiantes en unos pocos años.
Esos son estudiantes que viven en la comunidad y, en general, trabajarán aquí, proporcionando futuros trabajadores calificados para nuestros hospitales, plantas petroquímicas, colegios, policía y empresas.
De los estudiantes en el campus este semestre, 1.302 son de Texas City, 957 de Dickinson, 872 de League City, 543 de Santa Fe, 455 de La Marque, 447 de Friendswood, 250 de Hitchcock y más de mil de comunidades fuera del área de servicio de la universidad.
Los cinco programas de grado más grandes de la universidad son Estudios Generales, Estudios
Continúa en la página 8
Past Issues
Volume TWO, Number THREE
Volume TWO, Number TWO – 2018
Volume ONE, Number TWO – 2017
Volume ONE, Number ONE – 2017